Thousands of hours of honing the art of light and composition and understanding the phycology of animals are reflected in the ultimate expression of art that celebrates and honours your special fur baby's life.
It's not simply a matter of taking a photo of your pet. It's a matter of bringing out your pets personality and energy so we can create an image that is alive with presence. Then through intuition and experience we capture the soul of the furry little life that makes your life so much better.
Creation of your artwork
Our creative post production team have invested thousands of hours developing their craft to be able to bring your artwork to life. Each image is meticulously hand crafted to ensure the subtlest of details are carefully balanced. Your artwork must connect with you emotionally and capture the essence of your baby and as such each image requires intricate accent highlighting to build the depth and dimension that will make your artwork sing.
Our creative post production team rely on state of the art equipment to ensure every detail of the photograhers vision, thoughts and inspirations can be brought to life exactly as we intended.
Eizo ColorEdge graphics monitors helps to make that a reality. Each detail and nuance is realised in the final work, providing you an even greater satisfaction with your finished artworks due to the accurate colour and consistent image quality.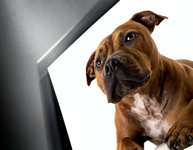 Finished "photos" simply wont do. In fact calling our finished artwork photo's is like calling a Rolls Royce a go cart.
Let us explain why…
Acrylic Glass PrinTs
We use a high quality, glossy, 4.5mm thick framing grade acrylic to amplify the depth, vibrance and clarity of your image.
With built in 94% UV resistance it will help maintain the impressive colours for years to come.
Using the latest UV technology, your image is accurately printed onto an acrylic glass sheet at an impressive, gallery quality resolution.
This process completely eliminates the issues such as bubbles or peeling that may be present with acrylic face mounting.
You'll be impressed by the amazing depth and clarity of a print on acrylic glass.
Our mounting is designed so that it is simple & easy to hang. A 2mm thick acrylic backing is applied to finish off the Acrylic Glass Print. You can be certain that it will present beautifully and will help:
Provide additional stability and rigidity against warping

Seal and protect the image from risks of damage

Prevents light from passing through the image, improving the vibrance of colours
Once the backing has been applied to your Acrylic Glass Print, a high powered laser machine is used to accurately cut and polish the edges of the acrylic to any custom size. This process creates a beautiful crystal-clear glass finish, amplifying the depth to your image.
Engineered to Last
Combining the very best UV cured inks, UV resistant acrylic sheets and durable acrylic backings means your Acrylic Glass Print is guaranteed to last for many years.